12 Best Work from Home Jobs for 2019
Work from home jobs have become extremely popular.
115% more popular to be exact, according to a recent study by Flex Jobs and Global Workplace Analytics.
As such, it's no surprise that the 1.8 million Americans that left their jobs between 2005 and 2017 cited greater flexibility, increased happiness, and better pay, as primary factors in their decision to ditch the traditional 9 to 5 grind to work from home.
Work From Home Jobs For Moms, Dads, College Students, Travelers, and More
For some — think stay at home moms or college students — work from home jobs offer a way to bring in additional income when finances are tight.
For others, legitimate work from home jobs provide an avenue to travel and work from places that were previously unimaginable.
A high demand for remote workers, especially in the tech industry, has led to the largest voluntary exodus from the in-person workforce in almost twenty years.
From virtual assistants and social media managers, to support specialists and work from home data entry jobs, the rise of the internet has created opportunities that didn't even exist just a few years ago.
If you're not thrilled about hustling to the workplace each morning, or you're looking for part-time work outside of your normal job, there has never been a better time than now to search for legitimate work from home jobs.
12 Legitimate Work From Home Jobs
Here are 12 of the best work from home jobs to start earning money from home in 2019, on your own schedule.
1. Run a Facebook Ads Business from Home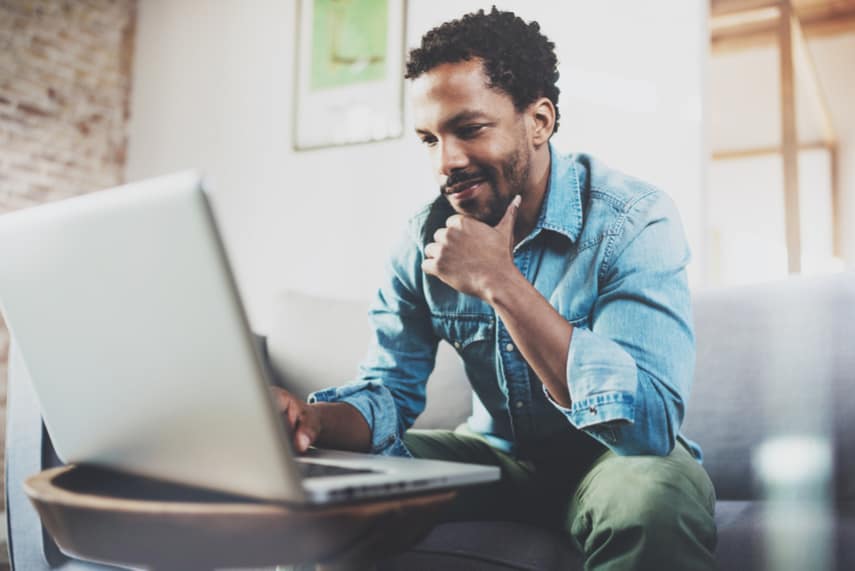 What do Facebook marketers do?
Facebook marketers help businesses get more customers and sales.
Think about how many local businesses are in your area (not giant retailers like Walmart or Dick's Sporting Goods, but local coffee shops, chiropractors, law firms, etc).
Chances are, most of them are not taking advantage of Facebook advertising.
These businesses may have a Facebook page, but most are not using them effectively to attract more clients or drive more sales via paid advertising.
That's where you can come in, as a Facebook ads specialist. The best part about this work from home job (in addition to its flexibility) is that learning the art and skill of Facebook ads isn't impossible — anyone can pick it up and secure their first client within a month.
Local Facebook ads experts help their clients with:
Creating Facebook ads based on business goals
Reaching their target audience/clientele
Managing advertising budgets and monitoring campaigns
Split testing ad variations to get the highest ROI (return on investment)
How much do Facebook marketers make?
This all depends on the results that you can deliver for your clients. Most Facebook ad agencies — even one man shows — will usually charge a monthly retainer as their "management fee" for managing the ads.
It's industry standard to charge anywhere from $1,000 – $2,000 per month per client, and you don't need any website or marketing experience to get started. This is in addition to the ad spend itself, which obviously goes directly to Facebook.
As you bring on more clients and build a reputation in your community for delivering outstanding results, your income can quickly increase. It only takes a handful of clients to start building a full time income.
How to become a local Facebook marketer:
The FB Side Hustle Course will show you how to start managing Facebook ads for local businesses, step by step.
Bobby Hoyt and Mike Yanda, two world-class Facebook marketers, created this course to teach you everything you need to know to go from "I don't know how to do any of this" to "working with clients and making a great income" in the next 28 days. Instead of piecing together an education on your own and wasting a lot of time (with possibly outdated information), this course puts everything in one place for you to learn from.
This course helps you quickly master the three phases of building your work-from-home Facebook ads business:
Learning how to set up a Facebook ad system for a local business
How to find prospects who will pay you for this service
How to convert those prospects into clients
If you want to learn more about Bobby and Mike's backgrounds and how they've built their Facebook ads business, you can check out their story here.
See Also: 16 Online Business Ideas That Anyone Can Start
2. Virtual Assistant Jobs
What is a virtual assistant?
Virtual assistants, commonly referred to as VAs, come in all shapes and sizes. Many companies will hire VAs if they are looking for help with online administrative tasks (email, calendar management, data entry, etc), but don't necessarily want to hire a full time employee just yet. They're the perfect work from home job for busy people that may need to drop their work at a moments notice, or have very sporadic availability.
Virtual assistant job tasks include helping with:
Social media management
Transcribing conference calls
Responding to emails or setting up email lists
Calendar management
Presentation preparation
A variety of other customer service oriented tasks
How much do virtual assistants make?
Between $35.00 and $50.00 per hour, according to Gina Horkey, a professional virtual assistant and work from home jobs coach at HorkeyHandbook.
How to become a virtual assistant:
Start by taking a training class that'll teach you the common skills needed to become a virtual assistant.
Classes are typically work at your own pace, cost between one and three hundred dollars, and be completed in just a few short days — a pretty fair trade off for a job that can earn upwards of $70,000 per year.
After your initial training the real work begins. The best virtual assistants will scour popular sites such as Upwork and Freelancer, looking for work from home job opportunities and new job leads. Also, be sure to completely fill out your profile and list all pertinent skills. Potential clients can search for qualified remote workers and proactively contact them about potential job opportunities.
3. Start Blogging for Money
What is a blogger?
Bloggers are typically people who enjoy a particular topic and enjoy writing about it on a semi-regular to regular basis. If you have something you are passionate about, or are an expert in a particular area, you can consider starting a blog. Blogs are a great way to: teach people about a particular skill, entertain, or share about life experiences.
Bloggers can make money through a variety of different methods including, but not limited to: affiliate marketing, accepting paid advertisements, and by selling digital (or physical) products.
Here are some popular (and profitable) blog topics:
Cooking
Fitness and health
Relationship
Money
Parenting
Travel
Fashion
Sports
Self improvement
Crafts and DIY Projects
You really can blog about anything under the sun. What do you love reading about? What do you enjoy talking to your friends about? What do you like browsing through the most on Pinterest? These are all possible blog ideas.
How much do bloggers make?
Highly variable. Anywhere between $0 and $150,000 per month depending on experience level and direct competition.
How to start a blog for beginners:
HostGator is one of the most affordable options to get a money-making blog up and running. They make it simple and easy to get started (and have everything you need all in one place), which is why we recommend them to ambitious new bloggers.
No experience or technical knowledge is needed and you can check out a step-by-step tutorial for getting started here.
4. Online Survey Jobs
How paid online surveys work:
Most successful companies want to get inside the heads of consumers. They want to better understand potential customers so they can improve products and target their audience better To do that, they actually pay people to take surveys. It's one the easiest work from home "jobs" out there, and it requires zero experience.
There are many different types of surveys you can take. From opinion polls, to answering questions about shopping habits, companies will typically ask users fairly in-depth questions so they can improve their marketing tactics. Survey takers are usually paid in cash via PayPal, or with points that can be redeemed for gift cards.
While unlike more traditional work from home jobs, getting paid to take online surveys is still a legitimate means for bringing in a few hundred extra dollars each month.
How much do they pay?
Between $50.00 and $200.00 per month, depending on eligibility and how many surveys you participate in.
How to get paid to take online surveys:
Signing up on survey taking websites is very easy (and free). In our experience, the best survey sites to use are Survey Junkie and Swagbucks (free $10 signup bonus).
Related:
5. Work from Home Freelance Writing Jobs
What is a freelance writer?
Freelance writers can more easily be thought of as a "writer for hire" or someone who is contracted out to write about a particular topic. If you have some writing chops, but don't want to deal with all the extra work that goes into running a blog, you can hire yourself out and write for newspapers, large online publications and even other bloggers.
How much do freelance writing jobs pay?
Between $30.00 and $500.00 per assignment, depending on difficulty, the writers experience level, and the length of the material. Veteran freelancers and other remote workers can charge on a per-word basis with lengthy articles earning them well over $1,000.00.
How do you become a freelancer?
First, start by taking a course that teaches you basic skill required to pursue freelance writing jobs. Holly Johnson, a professional freelance writer at the Earn More Writing School offers one such course. She makes over $225,000 per year freelance writing and shares everything you need to know to get started for less than a few hundred dollars.
After you've mastered the basics, you'll want to create a portfolio of writing samples that you can show to prospective clients. If you want to get a freelance copywriting gig, for instance, start by collecting samples of amazing copy that sells a product. Offer free work to clients to build up your portfolio, if needed.
Finally, once your portfolio is complete, you can start to find work on Upwork, Freelancer, or any number of similar websites.
6. Become an Amazon Remote Employee
Does Amazon hire remote workers?
Amazon is an enormous company, which means hiring thousands of workers to make their business function. If you've been looking for legitimate part-time work from home jobs, now is a good time to be on the market.
Amazon recently announced plans to add 5,000 remote customer service jobs over the next year. They're hiring for a variety of positions ranging from customer service agents, to data entry, all the way to supply chain managers.
With job responsibilities and requirements varying so widely, you'll have to look through their listings to get accurate job description and reimbursement information.
How much does Amazon pay?
$10.00 per hour to $50,000 per year, depending on your position and experience level.
How to apply:
For salary information check out Amazon's Virtual Locations jobs page.
7. Online Teaching Jobs
What is online teaching?
Every industry is adapting to changes brought on by the internet, and teaching is no different. If you are a (licensed) teacher, you can now start teaching classes from home. Classes are usually taught via Skype or pre-recorded sessions.
Demand is really beginning to grow for online education solutions as either a supplement to in-class schooling, or sometimes even as a total replacement. Subjects in the highest demand are English, science, and math (the core subjects of any education).
How much do online tutoring jobs and online teaching jobs pay?
Average salary for first year teachers is $30k. Some subjects pay higher than others.
Work from home jobs for online tutors:
One of the hottest work from home jobs out there right now for online tutors is teaching Chinese children English through VIPKID. The service is super flexible, you get to set your own hours, and there is no lesson planning involved. VIPKID provides the lesson plans and communicates with the parents, all you need is a laptop and a desire to help teach children. Tutors typically earn anywhere from $14 – $22 per hour according to their website.
Work from home jobs for online teachers:
K12 is one of the biggest players in the online teaching space. One of the great things about them is the fact that your job will likely include health insurance, retirement savings accounts and paid time off.
Since you'll be working with kids (even though it's online), you still need to go through the typical hiring process for a teacher: background check, reference check, interviews, etc.
8. Freelance Proofreading Online Jobs from Home
What are freelance proofreading jobs?
Freelance proofreading jobs are work from home jobs where a person spends time identifying errors in printed content. If you've got a knack for grammar, can spot typos, or can easily fix egregious misspellings, proofreading may be the thing for you.
In 2014, Caitlin Pyle made over $43,000 by working as a freelance proofreader…part-time. When she wasn't working online jobs from home, she even had time to go on several fun vacations. After she had a ton of success doing that, she decided she wanted to teach others how to do the same thing, so she started up Proofread Anywhere.
How much does a freelance proofreader make?
Pay typically depends on the time a proofreader is able to commit and their experience. According to Salary.com, the median salary for a freelance proofreader equates to $49,729 per year — not bad when considering that no-college degree is required.
How to become a freelance proofreader:
The easiest way to land one of these work from home jobs is to start out by signing up for one of Caitlin's free workshops on how to make money as a proofreader. There is no commitment and you'll learn more about the tools and skills you'll need to be an effective proofreader.
9. Direct Sales Consulting
One of the more common work from home jobs, direct sales consulting, also known as multi-level marketing, has exploded in popularity over the past ten years.
This is the stuff like Plexus, Avon, Beachbody and Thirty-One that you see littering your Facebook feed on a daily basis. If you want to get a taste of working from home and want to sell products you already use and love, this may be an option.
Note: Nearly all of these programs require an upfront investment for purchasing your initial inventory. They're not our first choice when it comes to work from home jobs for this reason alone. We don't like seeing users getting stuck with thousands of dollars in inventory only to realize they're trying to offload their LuLaRoe into already saturated markets.
Related: 31 Clever Ways to Make Money Fast
10. Test Apps and Websites
Similar to taking surveys for money, companies will also pay regular people to give feedback on their website. How it looks, how easy it is to navigate, how things "flow"…
Companies effectively want to know how easy their websites are to use and the information you give them about the process is extremely valuable.
Here are some places you can apply for this type of work:
Whatusersdo – Pay is $8 (or more) per test. Tests take around 15-20 minutes (you need a Mac or PC + mic).
Enroll – Get paid to test websites before they are published. Earn cash rewards.
UserFeel – This company pays around $10 per test.
Analysia – Tests take around 15 minutes to complete. Pay is $10 per test.
TryMyUI – Tests takes around 15-20 minutes to complete. Pay is $10 per test.
See Also: 6 Google Jobs That are Worth Your Time to Apply for Now
11. Web Design Services
Business owners want professional looking websites for their space on the internet. If you know some basics behind web design, you can start offering those services to small business.
Again, Upwork is a great spot to start finding gigs. Another option is to do things the old fashioned way: cold call or email every small business in your town and drum up some business that way.
12. Join TaskRabbit
This is the ultimate site for local "odd-jobs". From running errands for others, buying groceries, doing yard work, there are all sorts of jobs on this site. As of now, it only serves select metro areas, but is quickly growing to other locations.