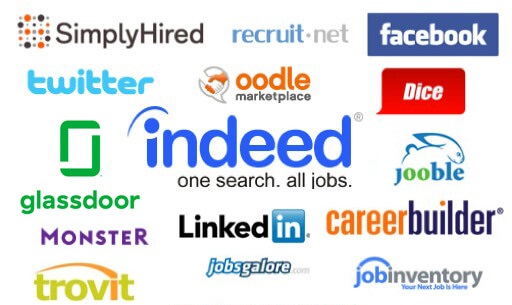 1. Jooble
Jooble is an international job aggregator that operates in 72 countries worldwide. They have an audience reach of 75 million candidates and list thousands of active job posts daily from job boards, recruitment agency sites and company career sites.
Employers can post vacancies directly to Jooble on a pay-per-click basis. Jooble provides job post management tools and analytics.
Jooble is non-specialized and attracts candidates from all industry sectors and job types.
When you perform a search with Jooble, you'll get links to job postings from more than 23545 different job sites throughout the USA that are the most relevant to your search terms.
2. Indeed
Indeed is the one of the most popular job sites. It scrapes thousands of vacancies from company career pages. Top job boards, classfieds. Some employers also post openings there directly.
Just type in a job title and location. Upload a resume or CV and register with single click apply. You get email alerts when new jobs appear that match your job searches relevance. That is why it is a leading job site.
3. Glassdoor
Glassdoor isn't just for learning salaries and company reviews but it is also one of the best job search engines around the globe. Combine the two and you're in good business.
Slick interface which makes it user friendly. Keeps saving your job search results and notifies you regarding your job hunt once you wake up in the morning.
Cost: Glassdoor offers a Standard and Premium option ranging from $199 to $699 per month with a reduction on the cost of each job post based on a sliding scale and volume.
4. LinkedIn Job Search
LinkedIn earns its rep as one of the best job search websites because of two major key functions.
Delivers great job listings along with bootstrapping of your network outreach. Human resources love it to source qualified candidates. Free account, post rich profiles and connecting with key industry power players.
5. Google for Jobs
Latest entry to the best online job sites brings Google's AI to the table. This one job search engine scrubs all the others to find job postings.
Just search for job title + job, e.g., procurement manager job. Google will serve a list of matching openings around your perimeter. By clicking the big blue bar you can refine locations and perform a more advanced search to find more relevant jobs.
Cost: You can post jobs on Google for free.
6. Monster
Monster gets a lot of backlash among top job sites users for its relatively higher spam rate.
However, there's a lot of good job opportunities. Great job selection. Moreover, it lets you hold your resume from current employers.
Cost: $375 for a single job for 30 days or $399 for 60 days, with the cost per job reducing on a sliding scale to $135 per job for between 100 to 249 postings.
7. ZipRecruiter
ZipRecruiter boasts over 8 million vacancies. While the one click application saves time, altering your resume to every single new job which will get more interviews.
Analyzing user reviews, search capability may be lacking. However, thanks to its job board network and alerts, it's very popular among recruiters and job seekers.
Cost: There are a number of plans to choose from starting at $249 per month through to $1,569.00 per month.
9. SimplyHired
SimplyHired is a popular site with an amazing slick interface.
SimplyHired's listings don't look quite as relevant as the rest. It is more of a crowd pleaser, but thanks to a large pool of offers and handy mobile app.
9. CareerBuilder
CareerBuilder can instantly match jobs to your resume keywords. The Hire Insider tool presents a detailed report of how you compete with other applicants on the board.
However a heavy ads scheme is somewhat of a turn off for this traditional job board.
Cost: A single job post costs $419. If you intend on posting a number of jobs, there are subscription options that range from $199 to $499 per month with a reduction on the cost of each job post based on a sliding scale and volume.
10. Snag (Formerly Snagajob)
Snag might be your favorite of all the top job boards. It specializes in non-salary positions which would be the hourly paid work.
The coolest feature of Snag is when they don't find matching jobs, they provide appropriate near misses.
11. LinkUp
If you are tired of fake listings or offers from 3 years ago, LinkUp got your back. LinkUp makes the list of best job search engines with its great anti-spam twist.
Actual human beings verify all the vacancies themselves. However tools like automated job search make the process faster and easier.
12. Craigslist
One of the most loved job search websites. Why?
As employers don't like spams on the big job sites, which makes Craigslist a nice homespun option to post jobs. You can say it's like an old job classified print out.
Cost: Job posting prices range from $15 to $75 per post based on your regional location.
13. US.jobs
National Association of State Workforce Agencies has its right arm as US.jobs.
Simplest interface with lesser spam. Best for government job search. Veterans can also find jobs.
14. Robert Half
Robert Half which is mainly a staffing agency. It hosts one of the most popular job search engines.
Selection for job search is much narrower than other websites. Some complain that their scattershot approach might irritate employers.